"SAYA sedang di tahun pertama kuliah saya ketika (Kapten) Skipper Arun memanggil saya sebagai 'Kapten Haritha' sambil meminta saya untuk menjawab pertanyaan di kelasnya. Saya merinding ketika mendengar nama saya disandingkan dengan gelar itu. Momen itu benar-benar mengubah hidup saya dan membuat saya berambisi untuk memenangkan gelar bagi diri saya sendiri," kata Haritha KK, kapten wanita pertama sebuah kapal penangkap ikan di India.
Haritha, 25, dari Ezhupunna panchayat di Alappuzha, Kerala, percaya bahwa tidak ada yang mustahil bagi seorang wanita untuk menaklukkan, bahkan laut.
Haritha, yang ingin bergabung dengan Angkatan Laut, didiskualifikasi selama tes fisik, karena fisiknya tidak sesuai dengan persyaratan mereka. Saat itulah dia mengetahui tentang Central Institute of Fisheries Nautical and Engineering Training (CIFNET) di Kochi dan peluang yang dapat ditawarkannya.
Segera setelah menyelesaikan Sarjana Perikanan dan Ilmu Kelautan dari CIFNET pada tahun 2016, Haritha memutuskan untuk berlayar menuju mimpinya menjadi Kapten.
Dia bergabung sebagai deckhand di Prashikshani, sebuah kapal pelatihan oleh CIFNET dan menghabiskan sekitar 180 hari berlayar. "Saya adalah wanita pertama yang menjadi kru dan atasan serta kolega saya sangat mendukung dan menyambut. Menjadi satu-satunya wanita di kru, saya diberi semua fasilitas yang diperlukan dan saya tidak pernah merasa ditinggalkan atau tidak aman, "kata Haritha kepada The Better India.
Setelah berlayar pertama kali pada tahun 2017, Haritha harus mengikuti banyak kursus tambahan untuk mempersiapkan ujian 'Mate of Fishing Vessel', ujian untuk menjadi Mate atau Chief Officer kapal penangkap ikan.
Dia menyelesaikan ujian Mate-nya pada Oktober 2017 dan menjadi wanita India pertama yang diakui sebagai Mate of Fishing Vessel, yang dikenal sebagai chief officer atau second-in-command.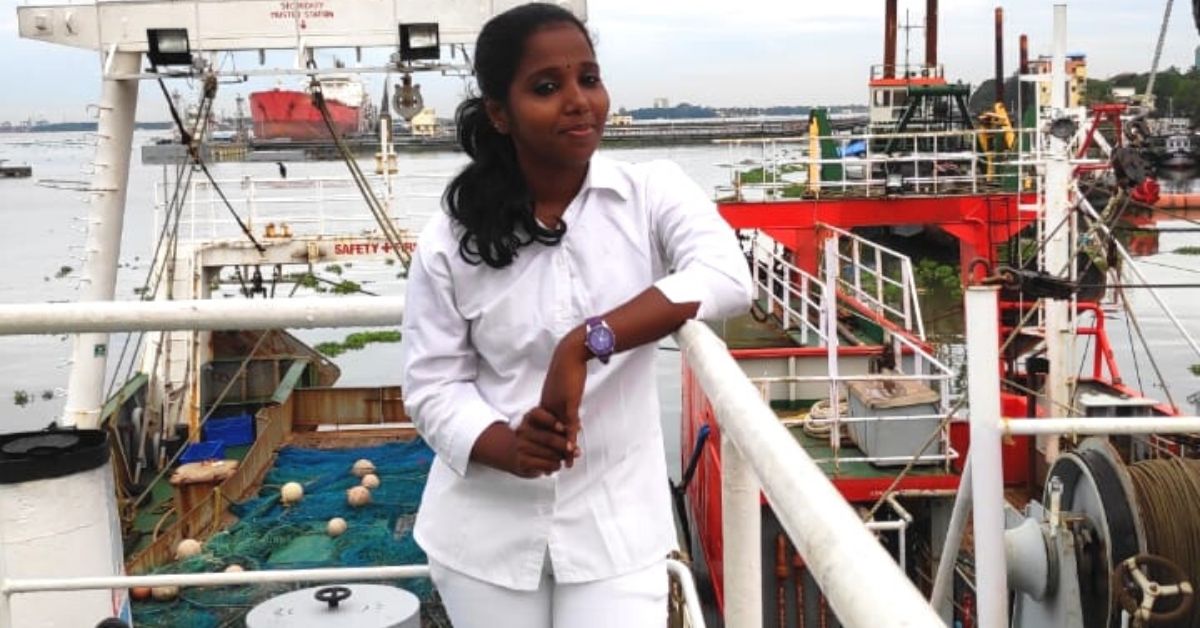 "Itu selangkah lebih dekat dengan impian saya. Saya menjadi chief officer dan berlayar lagi selama 450 hari selama dua tahun di kapal CIFNET Prashikshani dan kapal Survei Perikanan India (FSI) Lavanika. Saya memimpin awak yang masing-masing terdiri dari 21 dan 15 orang, dan berlayar melalui pantai India-Lakshadweep. Itu tanggung jawab yang besar," kata Haritha.
Berbicara tentang kesulitan yang harus dia hadapi di laut, Haritha mengatakan, "Dulu saya sangat sering mabuk laut. Awalnya agak sulit, di mana saya selalu merasa mual sepanjang waktu. Tetapi anggota kru saya sangat pengertian dan mendukung, jika tidak, itu tidak akan mungkin terjadi."
Haritha menambahkan, "Tetapi saya secara bertahap mengatasi mabuk laut saat tubuh saya mulai menyesuaikan diri dengan lingkungan."
Sebagai persyaratan untuk ujian berikutnya untuk menjadi nakhoda (kapten), bersama dengan 450 hari dinas lautnya, Haritha harus mencoba serangkaian kursus tambahan dan harus sehat secara medis. Ujian nakhoda meliputi ujian tulis, ujian isyarat dan lisan.
Haritha mencoba dan menyelesaikan tes tertulisnya pada bulan Desember 2020. Segera dia bergabung dengan Merchant Navy karena dia membutuhkan penghasilan dan memutuskan untuk mencoba sisa tes selama istirahat dari pekerjaannya. Dia bergabung dengan grup Synergy Marine yang berbasis di Mumbai pada Februari 2021 dan berlayar dari Australia ke AS dari Februari hingga September 2021.
"Setelah enam bulan dengan Merchant Navy, saya kembali ke rumah untuk istirahat dan saat itulah saya memutuskan untuk mencoba tes sinyal — putaran kedua ujian kapten. Saya menyelesaikannya juga dan memberikan oral saya, babak final, pada bulan November dan saya memenuhi syarat untuk menjadi Kapten, "kata Haritha.
Dia menambahkan, "Itu adalah momen mimpi yang menjadi kenyataan bagi saya. Saya tidak bisa lebih bahagia."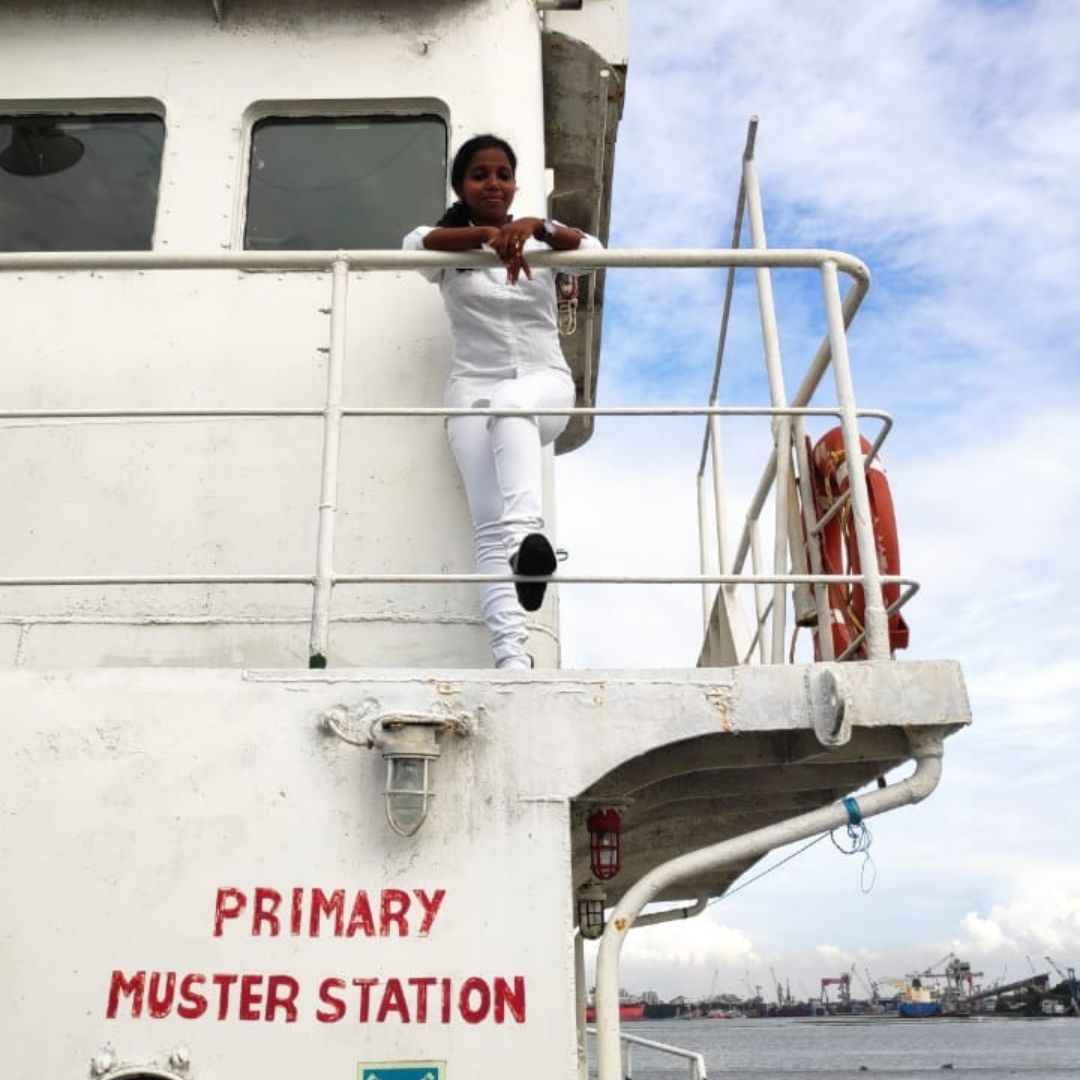 Keluarga Haritha selalu bersamanya di setiap langkah dan keputusan yang dia buat untuk mencapai mimpinya. "Keluargaku adalah kekuatanku. Orang tua saya selalu mendorong saya untuk bekerja menuju impian saya. Meski awalnya ibu saya sedikit khawatir, lambat laun dia yakin dengan profesi saya karena saya tidak pernah berpikir dua kali," kata Haritha.
Ketika sebagian besar teman sekelas perempuannya dari perguruan tinggi memutuskan untuk melanjutkan studi yang lebih tinggi dan beralih ke dunia akademis, Haritha menonjol dengan keputusannya untuk berada di laut. Dia percaya bahwa tidak ada yang tidak bisa dicapai jika Anda memiliki pola pikir yang benar dan sedikit keberanian.
"Ada semacam prasangka di masyarakat kita seputar profesi semacam itu. Orang-orang berpikir bahwa tidak mungkin atau sulit bagi seorang wanita untuk mengejar karir seperti itu. Sudah saatnya wanita mematahkan mitos sosial semacam itu dan mengambil profesi semacam itu. Kalau laki-laki bisa, perempuan juga bisa," pungkas Haritha.
(Diedit oleh Yoshita Rao)