Dr Ajai Kumar Sonkar, seorang ilmuwan peneliti independen dari kota Sangam di Prayagraj, telah dianugerahi Padma Shri yang bergengsi tahun ini untuk pencapaiannya yang luar biasa di bidang budidaya mutiara.
Dr Sonkar adalah ketua Pearl Aquaculture Research Foundation dan peneliti utama misi penelitian di bidang ini. Karyanya dalam mengembangkan teknik pembuatan mutiara menggunakan kultur jaringan mutakhir telah mendapat pengakuan dunia.
Sebagai seorang remaja, Dr Sonkar ingin menjadi seorang insinyur dan belajar fisika, kimia dan matematika di Universitas Allahabad. Tapi itu adalah episode acara TV sore Doordarshan yang menggelitik minatnya pada budaya mutiara.
Dr Sonkar ingin membuat mutiara dari tiram di air tawar, seperti yang dilakukan orang Jepang. Sementara dia segera menyadari bahwa ini akan menjadi tugas yang berat, dia tidak menyerah.
Pada tahun 1993, ia berhasil mengembangkan metode untuk mengembangkan mutiara hitam di air tawar dan menerima undangan untuk menghadiri Konferensi Internasional pertama tentang Budidaya Mutiara. Saat ini, ilmuwan tersebut memiliki lusinan makalah penelitian yang diterbitkan dalam jurnal internasional dan telah memberikan kuliah tentang budaya mutiara di setidaknya 68 negara.
"Jepang memiliki teknologi tetapi tidak memiliki iklim alami. Cuaca menjadi sangat dingin sehingga satu putaran budidaya mutiara memakan waktu setidaknya dua setengah hingga tiga tahun. Tapi di sini terjadi antara enam bulan sampai satu tahun. India memiliki keunggulan ini. Mutiara kami juga lebih berkualitas," jelas Dr Sonkar.
Menurut sebuah laporan oleh The Print, mantan presiden Dr APJ Abdul Kalam menggambarkan penemuan mutiara hitam Dr Sonkar sebagai pencapaian besar bagi negara. "Sejak itu, ada proses pengembangan teknik baru yang berkelanjutan," tambah laporan itu.
Dr Sonkar mengembangkan mutiara hitam di Kepulauan Andaman dan Nicobar. "Andaman memiliki potensi besar untuk menghasilkan mutiara hitam, yang [are] permata langka yang paling berharga dan paling langka yang dihasilkan oleh spesies tiram laut yang dikenal sebagai Pinctada margaritifera, "kata ilmuwan mutiara dalam sebuah wawancara dengan The Daily Telegrams.
Baru-baru ini, ia juga membangun laboratorium baru biologi sel dan kultur jaringan bersama dengan laboratoriumnya di Prayagraj. Dia berhasil mengangkut tiram mutiara berbibir hitam dari Kepulauan Andaman dan Nicobar ke labnya dan menghasilkan mutiara menggunakan teknik khusus yang dikembangkannya.
"Pinctada margaritifera tiram ditemukan di laut air asin. Setelah melepas mantel mereka, saya membawa mereka ke lab saya yang berjarak 2.000 km, dengan segala tindakan untuk menjaga mereka tetap aman. Kami membutuhkan waktu 72 jam tetapi mereka benar-benar hidup dan sehat. Kami kemudian membiakkan dan menyuntikkannya. Mereka tidak hanya membuat komponen mutiara, tetapi juga mutiara," kata Dr Sonkar kepada Speed ​​News.
Sesuai laporan Hindustan Times, pencapaian ini membuatnya mendapat pujian dari Presiden Ram Nath Kovind, yang juga mengundangnya ke Rashtrapati Bhawan pada 19 Oktober 2021.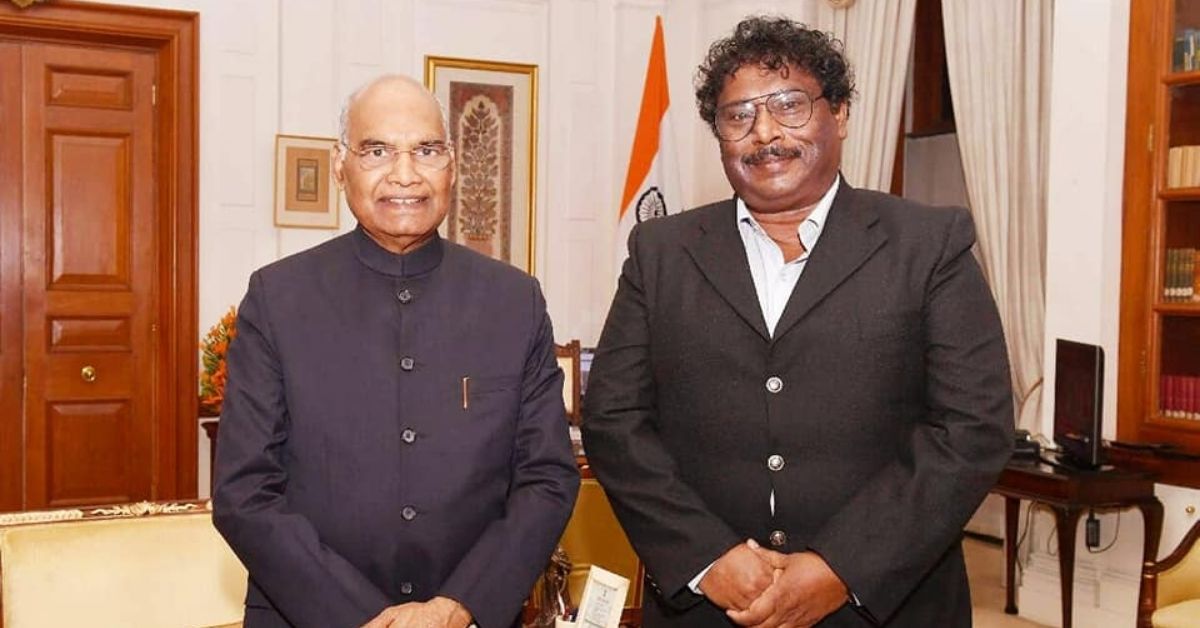 Penelitian terbaru juga mencakup studi tentang Moluska kerang, tiram mutiara kecil yang memurnikan 30 hingga 100 juta galon air setiap hari dan dapat menahan partikel sekecil dua mikron.
Ilmuwan juga telah mengembangkan teknik untuk menghasilkan mutiara bulat berinti di air tawar, menemukan cangkang India yang paling cocok untuk produksi inti, dan mengembangkan teknik sendiri untuk membuat kualitas inti terbaik yang penting untuk mutiara berkualitas.
Penghargaan Padma Shri diberikan kepadanya di bawah kategori sains dan teknik.
Sumber:
Cetakan
Berita Kecepatan
Waktu Hindustan
Yayasan Penelitian Budidaya Mutiara
Facebook Ajai Kumar Sonkar n Tim
Diedit oleh Divya Sethu
Kredit gambar: Facebook/Dr Ajai Kumar Sonkar dan Tim