In 2013, VS Veerasami, who at the time ran a wall putty manufacturing company in Coimbatore, Tamil Nadu, set out on a journey to find an alternative to plastic bags. (Above image of VS Veerasami and his daughter Kavitha Rajan, co-founders of GreenPlast, a startup which makes biodegradable alternatives to single-use plastic bags)
For his research, he visited countries like Japan, Germany, Indonesia, Malaysia, and China to understand the plastic replacement products that are on the market. He found that there exists technology to make daily-use organic bags that are biodegradable. However, he was surprised to learn that the primary raw materials for manufacturing these bags — biodegradable pellets — are not made available in the market to protect the plastic industry.
Veerasami realised that the only way to solve the plastic problem is to make the raw materials for plastic substitutes easily accessible. He set up a comprehensive home laboratory to research how to create water-soluble pellets that can be blown into films and made into bags.
"My father was a visionary. He had this innate passion to tackle the problem of plastics, particularly of the single-use variety," says Kavitha Rajan, his daughter and co-founder of GreenPlast, a Coimbatore-based startup that has created a biodegradable alternative to plastic carry bags, in a conversation with The Better India.
"His first project was 'Plastoleum', wherein he wanted to convert used plastic bottle caps and other small plastics to crude oil. This was in 2012 and it was well ahead of time, as experts and governments were just starting to spread awareness against single-use plastics. Despite only finishing high school, he would often go the extra mile for solutions," she notes.
Tragically for Veersami, he was diagnosed with Stage 3 lymphoma in June 2018. Undeterred, he spent the next three years working on his water soluble pellets project. After further research and regular experimentation, he successfully installed his first pilot project in Coimbatore with a capacity of 125 tonnes per month sometime in December 2020.
It was the same year that he handed over the reins of the company to his daughter Kavitha, who took on the mission to launch the product globally. He passed away in June 2021 at age 61.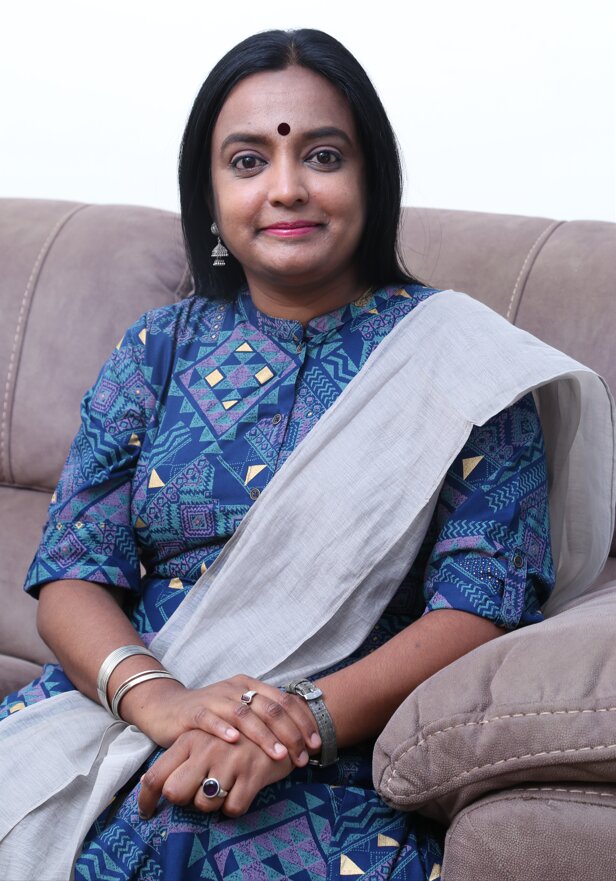 Battling cancer
Founded by Kavitha and her late father Veerasami in Coimbatore, GreenPlast products are made with water soluble polymer PVA (polyvinyl alcohol), processed starch, vegetable oil derivatives, and other non-plastic additives. The bags and pellets are easily dissolved or composted, and are sturdy and rainproof.
"These products are non-toxic to the environment, animals and plants. GreenPlast bags do not leave residue of microplastics. With no conventional plastics, our products provide innovative and sustainable packaging solutions that easily dissolve in cold and hot water. In fact, the firm is the only manufacturer of hot-water soluble biodegradable pellets in India," claims Kavitha, speaking to The Better India.
The pellets are built using GreenPlast's proprietary formula. "These bags are manufactured in customised machinery units. They also have good strength and better elasticity than traditional bags," she adds.
The objective from the start was to find a truly biodegradable solution. After in-depth research, Veerasami came across a water soluble polymer called polyvinyl alcohol (PVA).
The very first challenge he had, Kavith says, was to convince his family that it is possible for him to develop the formulation for water soluble biodegradable pellets/films. So, he set up a small lab-like facility in the office and spent hours trying out the different combinations. The second challenge was to set this up as a commercial plant where the formulation is made into pellets/resins.
The most challenging part was arriving at the right proportion of PVA and other non-plastic ingredients to get the pellets cooked at the right temperature. That process itself took more than eight months.
Once pellets were made, he had to solve for elasticity and blowing stability. If there was too much starch, the film could not blow well. If it was too much vegetable oil, the oil started oozing out of the films. It took a year to bring this stability and the balance between starch, oil and PVA.
"Even though there are so many patents for water soluble film, none talk about production capacity. Anyone can do something like this on a very small scale, but to make it production worthy and economical, it took years for my father to reach that balance," Kavitha recalls.
"Amidst cancer, it was a very challenging period for him and my family. He was quite unwell. We had to draw out around a litre of liquid every day from his lungs. He refused to take chemotherapy as he feared that it would make him tired all day and that he would not be able to do his experiments."
Veersami was not only working with formulations, but also designed his own machines, screws, and set up the whole facility with whatever funds he had. As this was a research project, loans from banks were out of the question. The family had to sell off properties, take up private loans at large interests, and sell jewels to make his dream a reality.
"What really made us admire him was his consistency and determination in spite of all the physical challenges he was facing. I could see him awake all night as he was unable to sleep due to the massive lymphoma in his abdomen and chest area. After a lot of compulsion, he agreed to take Vitamin C alone as a therapy for his cancer," recalls Kavitha.
After eight months of struggle, he bounced back to complete his project and in December 2020, he set up a manufacturing facility with a monthly capacity to manufacture 125 tonnes of pellets.
Passing on the torch
Before taking on the mantle of running GreenPlast, Kavitha was focussed on running a software development company in Coimbatore, which largely caters to United States-based clients.
"But watching him progress through his passion while struggling physically and mentally with his ailment gave me the motivation to go forward with his dream. After my father passed away, as his only child — I had a brother who passed away at age 23 — , I thought it was my duty to make his dream come true," she recalls.
"When dad passed away, it was during the end of the second wave of COVID-19 and the world had slowly started to bounce back," she notes. The challenge for her then was to overcome some of the startup's early financial challenges and instil trust in the employees that she can take them forward.
Starting out, she began understanding the working of the machines and in two months began delivering the orders to Mumbai clients. Their first major order was for water soluble laundry bags to hotels/hospitals.
"Since, I was with my father watching him experiment and come up with his formulations, I was able to make the raw material required for manufacturing pellets. My father had only obtained certification from the Central Institute of Petrochemicals Engineering & Technology (CIPET) for the film and testing its compostability and biodegradability," she says.
For her venture to sell carry bags in India, she had to apply for CPCB (Central Pollution Control Board), which is "a tedious process". After applying for it, she learned, much to her surprise, that CPCB requires state pollution board certification first and then CIPET certification. Unfortunately, they had done it the other way around. Hence, GreenPlast is still awaiting for CPCB certification to sell the bags in India. They're currently selling their products abroad.
Under Kavitha, the next important breakthrough was reformulating their pellets in a way that it can be used by any film extrusion machine with no alterations to make water soluble films/bags. She also formulated special pellets used to make solid objects which are soluble in water.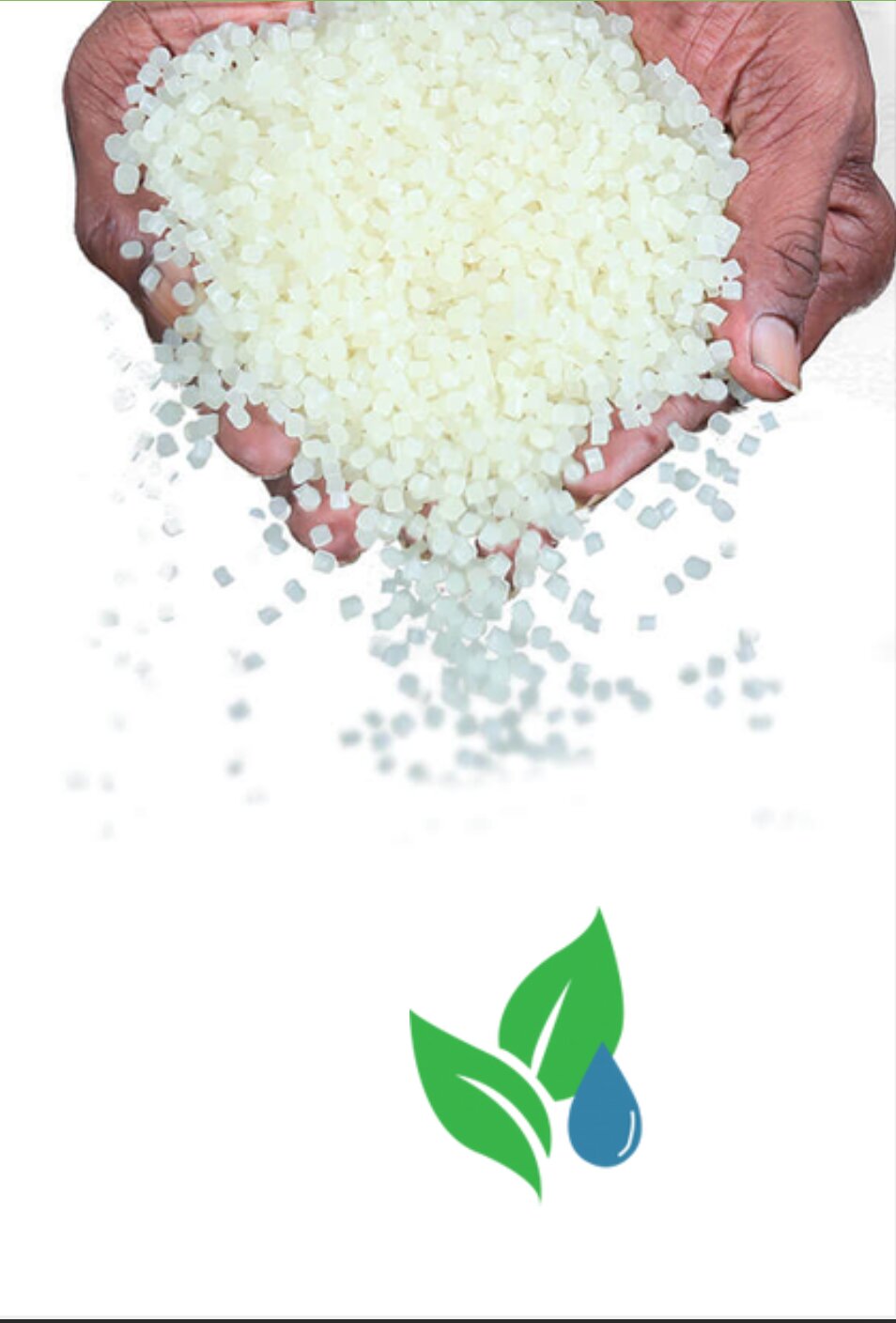 Key products
GreenPlast's products can be divided into four broad categories:
GreenPlast Pellets: With a shelf life of approximately two years, GreenPlast pellets come in different colours and can be used to make transparent as well as coloured bags. "They can be converted into films using the normal extrusion processes and are available in three variants: cold water soluble, warm water soluble, and hot water soluble," she notes.
Cold water soluble are those pouches/films/bags that are soluble in normal room temperature. Warm water soluble are those that are soluble in around 50*C temperature, while hot water soluble are soluble from 60*C onwards.
"We can customise the formulation so that the solubility can be even at 80*C. Cold water solubles are used for aqua farms where fish feed is packed in our pouches and thrown in ponds, in pouches used for packing cleaning gel etc. Their hot water soluble products are rain water resistant, but it does become saggy while drenched in water," she adds.
GreenPlast Films/Bags: Ideal for use as a packaging material, this one provides many other advantages, including high solvent resistance and gas barrier performance. "They find use as packaging for agricultural chemicals and pharmaceuticals, hygiene purposes, printing on curved surfaces, and as base materials for wigs and embroidery," explains Kavitha.
GreenPlast Fabric Bags: These hot-water soluble bio bags can be used multiple times before being discarded either through dissolving or decomposition in soil. They are available in different thicknesses and can be printed upon.
GreenPlast Water Soluble Solid Plastic Pellets, which are injection moldable: With a shelf life of approximately two years, GreenPlast pellets come in different colours and can be used to make solid plastic objects which are soluble in water over a period of one week. Solid objects such as containers for dry products, paper core plugs etc can be made out of these pellets.
Are they sturdy? "The base for any material that will work as a replacement for plastic and behaves like plastic should be a polymer. Our base is the exact blend of water soluble polymer PVA and processed starch. We have other non-plastic ingredients like vegetable oil," she says.
Backed by a team of 26, GreenPlast has a monthly manufacturing capacity of 125 tonnes for pellets and 40 tonnes of films/bags capacity. They have gone commercial only since August 2021. "Since then, we have reached an additional capacity of 10-15 tonne per month. We have few clients in Kenya, Dubai and Chile for our pellets. We also have three clients in India who take our pellets for manufacturing their own water soluble pouches, bags. Besides, we have many clients who get our pouches, films, and garment sealing bags," she adds.
Going forward, the objective now is to further expand their production capacity and fulfil her father's dream of seeing a plastic-free India.
(You can read more about GreenPlast's work in creating biodegradable alternatives to single-use plastic bags here.) 
(Edited by Divya Sethu)
Like this story? Or have something to share? Write to us: contact@thebetterindia.com, or connect with us on Facebook and Twitter.